Edinburgh distillery secures £3m green loan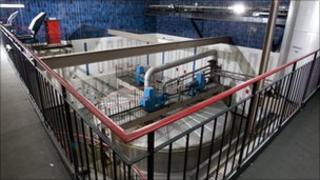 An Edinburgh-based distillery has secured a £3m loan to develop an ambitious green business strategy.
North British Distillery will use the cash to part-fund a three-year £9m investment programme which could generate 33% of its energy needs from renewable sources.
The firm hopes to save between 9,000 and 10,000 tonnes of carbon dioxide emissions annually from the programme.
The £3m loan was provided by Lloyds Banking Group.
The programme includes the installation of a biogas boiler and gas engine that will enable North British to generate its own electricity via anaerobic digestion of its distillate residues.
David Rae, managing director of North British, said: "Our sustainable business strategy will enable North British to make savings in terms of energy costs whilst at the same time significantly reducing the environmental impact of our production process."
The distillery, which has been based in Edinburgh's West End since 1885, already recycles residual low-grade waste heat to heat classrooms at nearby Tynecastle High School.
The firm said the supply enabled the school to make significant energy savings and reduce its own carbon dioxide emissions by 500 tonnes per year.
Most the firm's whisky spirit is sold to other companies for blending purposes, with Famous Grouse, Johnnie Walker Black Label and J&B Rare among its customers.