Tuition fee protesters stage demo in Edinburgh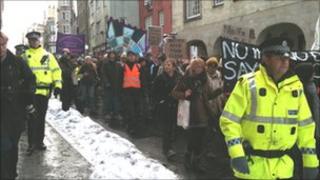 About 200 demonstrators have marched down Edinburgh's Royal Mile in protest against increasing tuition fees in England and education budget plans.
The students, who had marched from Bristo Square, chanted slogans as they headed towards the Scottish Parliament just after noon.
The Scottish government is currently preparing a green paper on the future of higher education.
It is due to be published before the end of the year.
Ministers have already ruled out a return to up-front tuition fees.
Questions have been raised about how the sector will be funded.