Freezing fog warning for Forth Road Bridge drivers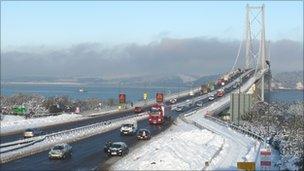 Drivers are being warned to "exercise caution" as freezing fog hits the outskirts of Edinburgh.
The Forth Road Bridge has a 30mph speed restriction due to a skid risk and the M8 is closed westbound between Junction 1 and Junction 5 for recovery of HGVs.
Passengers are being urged to contact their airlines as some flights from Edinburgh Airport have been cancelled and others delayed.
The airport said it was open but was working with a depleted staff.
Edinburgh Zoo is closed due to the weather.
However, Edinburgh Castle has opened for the first time in more than a week.
Most schools are open in Edinburgh, Midlothian and East Lothian, but all were closed in West Lothian and about half the schools in Fife were shut.
A spokesman for Feta, which runs the Forth Road Bridge, said: "We have a speed restriction of 30mph on the bridge and freezing fog means drivers are to exercise caution."
A Lothian Buses spokesman said: "Due to road conditions and further snow fall some services are currently not operating their full route.
"In addition many services are unable to operate normal routes due to badly parked cars."
Meanwhile, MSPs have praised Edinburgh's bus drivers for keeping the city moving during the wintry weather.
Mike Pringle has tabled a motion in the Scottish Parliament "applauding the skill and dedication" of Lothian Buses staff for coping with exceptionally heavy snow, freezing temperatures and hazardous road conditions.
The company said it was a credit to all the staff who had pulled out the stops to keep the city running.
Related Internet Links
The BBC is not responsible for the content of external sites.