Private firm could buy Edinburgh's Ross Bandstand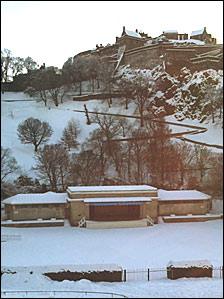 City leaders are in talks to sell The Ross Bandstand in Edinburgh's Princes Street Gardens to concert venue developers.
The move would see a private firm make more use of the space for music concerts and theatre performances.
The existing bandstand was built in 1935 although the first structure was erected in 1877.
Tom Buchanan, Edinburgh City Council's economic development leader, said the bandstand could be used a lot more.
He said: "We need to look at Ross Bandstand and ask if it is fit for purpose, are we using it enough and can we make it more of a venue with acts and shows happening a lot more than they currently are?
"A lot of developers are talking to us but we need to think of what is appropriate.
"There is a wider engagement to be had with city centre users, residents, the council itself, Festivals Edinburgh and others about what interest there is and what we would like to do."
Related Internet Links
The BBC is not responsible for the content of external sites.