Men admit abducting Rangers players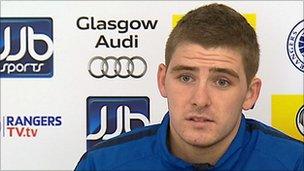 Two Edinburgh men have admitted abducting teenage Rangers football players Kyle Hutton and Kal Naismith.
Ryan Moore, 23, and Paul Hislen, 24, bundled Hutton, 19, and Naismith, 18, into the back of Hutton's Audi A3 opposite the Omni Centre in Edinburgh.
Moore then dumped them in Niddrie after the abduction on 20 September.
Moore was jailed at Edinburgh Sheriff Court for 40 months and 10 days. Hislen was sent to the High Court in Edinburgh to be sentenced next month.
Moore and a third man made off in Hutton's £17,000 Audi, which was later recovered.
Edinburgh Sheriff Court heard both Moore and Hislen were on licence from prison at the time of the offence, Moore for assault and Hislen for drugs.
Fiscal depute Graeme Jessop, prosecuting, said midfielder Hutton and striker Naismith had travelled from their homes in Glasgow to visit a friend in Edinburgh and had stopped outside Giuliano's takeaway at Union Place.
As Naismith, capped at youth level for Scotland, stood chatting to the friend, Moore and Hislen, who were strangers to them, approached and Hislen offered to buy Hutton's car.
The prosecutor Jessop said: "Hislen thereafter stated 'Give us the car or get in the boot.'
"The pair were both then bundled into the back and Moore drove off. Hislen got out 10 minutes later and another man, who has not been traced, got in. Moore again drove off and told the teenagers the car was now his.
"The untraced man demanded that Hutton and Naismith hand over identification and their mobile phones before driving off with them still in the car.
"Moore then pulled the car into a side track and the unidentified man asked the pair to hand over cash."
Naismith gave him a £100 note and the players were then released.
The court heard the footballers ran away through Duddingston Golf Course and climbed a fence into Hay's Community Centre at Craigmillar.
They then called the police from a phone box.
Mr Jessop added: "Neither Hutton nor Naismith was physically injured as a result of their ordeal. However both were terrified during the course of this incident and a police officer described them as being obviously "shaken up" by it."
Defence agent Colm Dempsey for Moore said: "It had not been a pre-meditated incident and started with appreciation of the complainer's vehicle.
"This is a matter of significant regret and he accepts it is a serious matter and would have been a distressing incident for the two youths concerned."
Solicitor advocate Stuart Carson for Hislen said: "He had been in the city all night and was drinking and was in a very drunk condition.
"He had initially seen this vehicle, admired it and it would appear the start of the incident was a drunken attempt by him to purchase the vehicle. Unfortunately that turned ugly very quickly.
"It is accepted by Hislen that his conduct in this matter was disgraceful. He is at a loss to explain why he acted the way he did. After some 10 minutes in the vehicle he decided he did not want to be involved further and got out.
"He accepts fully that his actions and what happened to these two young men must have been very frightening indeed for them. He had no idea who they were."
Related Internet Links
The BBC is not responsible for the content of external sites.