'Radical' plans for Edinburgh Film Festival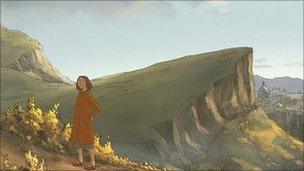 Organisers of the Edinburgh International Film Festival have announced plans for a radical shake-up.
Australian-born writer James Mullighan has been brought in to produce the festival in 2011, its 65th year.
The blueprint for next year has been shaped by film critic Mark Cousins and Oscar-winning actress Tilda Swinton.
They said it could move away from having prizes and would focus more on inviting guest curators to programme their own selection of films.
Hannah McGill, who had been artistic director of the film festival for four seasons, stood down in August.
EIFF parent body, the Centre for the Moving Image (CMI), has now announced a "radical new approach to the image and structure of the Edinburgh International Film Festival".
CMI chief executive Gavin Miller said Mark Cousins, who was artistic director of the film festival in the mid-1990s, had been working as a creative adviser for next year's festival, scheduled to begin on 15 June.
Cousins has developed a theme of "All That Heaven Allows".
Mr Miller said the EIFF may cease to have a competition section or prizes.
He said a team of guest curators could programme their own selection of films or contribute to special-themed days within the festival.
Mr Miller added: "We live in a very fragmented and competitive space and so it becomes much more important to continually refresh, revitalise and re-invent.
"I'm both confident and excited with this blueprint that Mark Cousins has shaped, which will deliver a unique and distinctive festival.
"I am delighted also that James is joining us as the producer."
Mr Mullighan worked for Sony Classical and Columbia records in Australia and as a freelance journalist in the UK.
He is currently creative director at Shooting People, the world's largest network of independent filmmakers, with 38,000 members in the UK and US.
The changes come after Mr Miller said he was "disappointed" by this year's box office sales.
He blamed the festival's late launch for the 10% decrease.
Mr Miller told the BBC Scotland news website he wanted to "engage" with his audiences earlier in the year ahead of the film festival.
He said: "We probably launched too close to the film festival itself, which didn't give people enough time to plan and buy tickets and that was what affected sales.
"We were quite late in securing some films due to the Cannes Film Festival being held in May so we wanted to wait to see what films we had secured before launching.
"My view for next year would be to launch earlier to get on the radar earlier.
"A significant proportion of our audiences have built up a trust with us and therefore come every year so my view is to engage with them earlier in the year."
Related Internet Links
The BBC is not responsible for the content of external sites.