Curry man to feed Edinburgh homeless on Christmas Day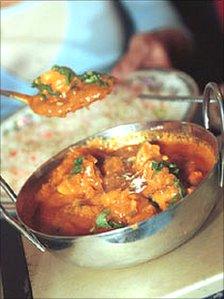 A restaurateur renowned for making one of the hottest curries in Scotland is to bring some heat to the capital's homeless this Christmas.
Assader Ali, who owns three curry houses in Edinburgh, plans to feed the city's homeless on Christmas Day.
He is cooking up a massive batch of turkey jalfrezi for his staff to hand out to homeless people in the street.
The Muslim chef does not celebrate Christmas but he is still set to shut up shop to take food around the city.
He said: "I've really noticed how cold it is this year, especially since my car was taken out of action by the terrible weather.
"You don't get the same sense of how cold it is when you're driving around, but for the last week I've had to get the bus and I've been shocked at how many people are out on the streets in the freezing cold.
"I'm not doing anything on Christmas Day and the takeaways will be closed so I decided to put my time to good use and do something for others.
"I'll have four delivery cars out in the city centre handing out the curries."
Mr Ali, who owns Eastern Spices and Bollywood Bites in the Canonmills area of the city and Bombay Feast in Drylaw, carries out regular charity work.
Earlier this year he rallied a dozen curry houses around Edinburgh to donate £1 from every meal to the Pakistan flood appeal.
He also hit the headlines two years ago when he prepared one of the hottest curries in Scotland.
He ordered in some extra spicy naga chillies, 100 times stronger than a jalapeno, for one insatiable customer who demanded something hotter than her usual dish made from 30 fresh green chillies.
However, he intends to make something a bit more tame for his Christmas treat.
He said: "I've decided to make a turkey jalfrezi to make it a bit seasonal, and also a wee bit spicy to warm up the insides."
Mr Ali's bid was praised by city homelessness charity Streetwork, which will also be running its own Christmas Day meals at its crisis centre in Holyrood.
Related Internet Links
The BBC is not responsible for the content of external sites.