Hibs v Hearts new year derby tackles domestic violence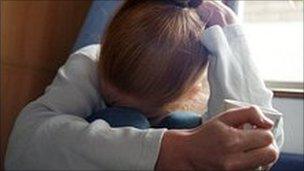 Football rivals Hearts and Hibernian are to join forces at their new year derby match to show the red card to domestic abuse against women.
Players from both teams will wear white ribbons for the fixture at Tynecastle to support a Lothian and Borders Police anti-domestic violence campaign.
About 5% of the force's annual domestic abuse incidents are reported between Christmas Eve and 4 January.
Reported incidents reach an annual high on New Year's Day.
Police said a combination of alcohol and post-Christmas financial stress could lead to violence in some households.
All front-line police officers will wear white ribbons and campaign messages will be sent out to mobile phones in the stadium via Bluetooth.
The campaign will also feature on the stadium's LCD screen, the match programme and posters and postcards distributed nearby.
Hearts manager Jim Jefferies said all acts of violence were "cowardly" and added his team were enthusiastic supporters of the police's message.
He added: "Hearts is proud to support this campaign, particularly at our biggest match of the season."
Hibs manager Colin Calderwood said violence against women "should not be tolerated".
"It is not acceptable behaviour and hopefully our involvement will have a positive impact on getting that message across," he said.
Designed to make men think about how their actions influence their children, the campaign features a father and son playing football and has the slogan: "You're his role model. Teach him violence against women is never OK."
Created in conjunction with White Ribbon Scotland, the campaign encourages men never to commit, condone or remain silent about violence against women.
Insp Paul Matthews, from Lothian and Borders Police, said: "It's a harsh fact but call-outs for domestic abuse traditionally peak on New Year's Day. Alcohol and post-Christmas financial stress both play their part in this, although every situation is different.
"However, one thing that's crystal clear is that domestic abuse - verbal or physical - has far-reaching effects on everyone.
"Most men are not violent towards women but many ignore the problem, or feel it has nothing to do with them.
"The derby match is a prime opportunity to speak directly to tens of thousands of people and make them realise domestic abuse is everyone's responsibility."
Callum Hendry, campaign co-ordinator for the White Ribbon Scotland campaign, said: "This is a great opportunity to get the message out to an audience of thousands of men and boys that violence against women is unacceptable, and that they can play a significant part in its prevention.
"By educating children of the importance of treating others with respect and by making them aware of gender equality issues, men can play a vital part in changing attitudes that excuse abuse of women.
"If we continue to work together change is possible. Violence against women will become a thing of the past - a sign of weakness rather than strength."
Related Internet Links
The BBC is not responsible for the content of external sites.