Woman killed in 'ferocious' fire in Edinburgh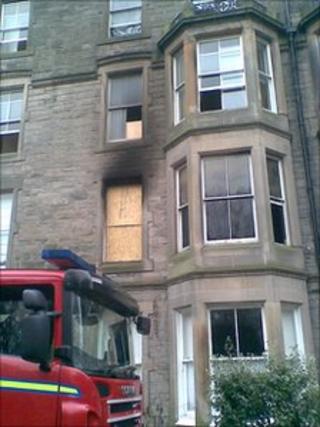 A pensioner has died after sustaining serious burns in a "ferocious" blaze in an Edinburgh tenement.
Berit Mountain, 79, was taken to hospital after being rescued from her home at Argyle Park Terrace at about 1745 GMT on Monday.
She died in the early hours of Tuesday. Two men and a woman were taken to hospital with less serious injuries.
Firefighters said the blaze, on the first floor of the building, was severe and caused "very high temperatures".
Ms Mountain was treated by paramedics at the scene before being taken to the Edinburgh Royal Infirmary.
She was transferred to the burns unit at St John's Hospital in Livingston, where she later died.
The cause of the fire is under investigation.
Do you have pictures - still or moving - of this incident? Send them to the BBC Scotland news website at newsonlinescotland@bbc.co.uk
Please ensure when filming or photographing an incident that you make your safety and the safety of others a priority.
If you submit an image, you do so in accordance with the BBC's Terms and Conditions.