Tribute to man killed by car on Fife road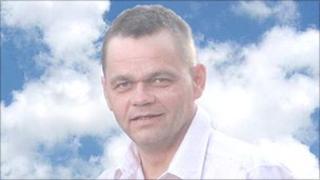 A family has paid tribute to "a gentle giant" who was killed while walking on a Fife road.
Jerzy Dudek, 43, from Burntisland, was hit by a car on on the A921 Burntisland to Kinghorn road on Christmas Eve.
He moved to Scotland five years ago from Poland and worked as a scaffolder at Bi Fab in Burntisland.
His family said: "We are devastated with his tragic death, no time is easy to lose a loved one, in particular when families are meant to be together."
In a statement they added: "A tall man, Jerzy had a big heart, he was a gentle giant, who quickly relaxed people in his presence, introducing himself and others making conversation.
"He allowed everyone to feel welcome and happy in his company.
"He was always friendly, polite and sincere to everyone, never walking past anyone in the street without acknowledging them.
"Jerzy was a happy man and had in sharing this with others, making people laugh and smile from his stories, jokes and actions."
The father-of-two was hit at 1845 GMT on 24 December.