Robots demolish key retail site in Edinburgh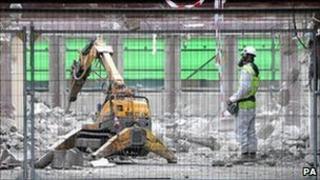 A fleet of remote control robots is being used to undertake a major demolition project in Edinburgh.
The robots work in very small spaces and can even crawl up stairs, so that human builders do not need to enter dangerous areas.
They are breaking down the walls and floors of the old Marks and Spencer building at 91 Princes Street to make way for a new Primark.
About 150 tonnes of rubble and steel is being removed from the site every day.
Contractors said it was a difficult project because the building was narrow and flanked by two historic properties.
'Minimise danger'
Site manager Barrie Henderson said: "Most people don't see the full extent of the work that actually goes into a project like the Princes Street Primark store.
"I think it would come as a surprise to many shoppers in Edinburgh to find out that there is a team of robots behind the scenes that are busy bringing down the building.
"It's always important to minimise danger and ensure that everyone on site is as safe as possible, so these machines are perfect for this."
The four robots, which have already deconstructed two-thirds of the building, are operated by demolition contractor Safedem.
Andy Smilie, Safedem operations manager, said: "It's a very precise method of deconstruction that is much more efficient than having teams of contractors demolishing the structure by hand."