Freight ferry service from Rosyth to Zeebrugge launches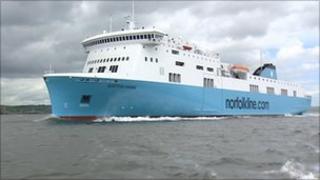 A new freight service from Scotland to mainland Europe has launched.
DFDS Seaways is running the service from Rosyth to Zeebrugge with two ships, and four departures a week sailing from each port.
The first ferry departed from Fife at 0600 GMT to arrive in Belgium at 1200 local time on Thursday.
The company closed its combined freight-passenger ferry service on the route in December, blaming insufficient passenger demand.
Two ferries will now operate on the route and sailing schedules have been changed to better suit freight customers, with early Monday morning arrivals in both Rosyth and Zeebrugge.
Route director Allan Hull said: "The freight service between Rosyth and Zeebrugge has been very popular with the haulage industry which has recognised the benefits of the route providing the only direct Ro-Ro (roll-on, roll-off) link between Scotland and the continent.
"While it was a matter of deep regret that the passenger service had to be withdrawn, we saw potential in enhancing the freight service to meet increased demand from the sector.
"Our new schedule will see two Ro-Ro ships operate on the route with the number of sailings increasing from three to four departures a week. This will increase overall weekly capacity by 25%."
The Scottish Viking ferry used for the passenger-freight service has been replaced by the larger Tor Finladia and Tor Cimbria, both with a capacity of 130 trailers.
'Under review'
Transport Minister Keith Brown said: "The Rosyth to Zeebrugge ferry route is an important link between Scotland and the continent.
"Although we are disappointed by the decision to withdraw the passenger service, we have requested that DFDS keep this under review.
"The current weather conditions certainly highlight the benefit of having a direct route to Europe, not to mention the significant positive impact it delivers in relation to climate change by removing a significant number of lorry miles from our roads."
DFDS Seaways previously said the combined passenger/freight service, which was relaunched in May 2009, had been a "constant loss-maker" and there was "no prospect of the situation changing in the longer term".
It revealed that the route had failed to meet any of its financial targets, had suffered "significant losses" and had achieved only 60% of its expected passenger numbers.