Two Edinburgh tuition fee protesters arrested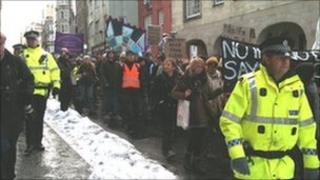 Two protesters have been arrested after a demonstration against increasing tuition fees in England and education budget plans.
More than 200 people marched down Edinburgh's Royal Mile on 30 November, with some occupying University of Edinburgh after protests at Holyrood.
Lothian and Borders Police said two people were reported to the procurator fiscal following the demonstration.
Scottish Activist Legal Project (ScALP) offered support to students involved.
A statement on its website said several participants in the protest had been asked to go to voluntary interviews at St Leonards Police Station.
Clare Ryan, an independent solicitor who works with ScALP, said: "I would not like to comment about these two cases as the procurator fiscal has not made the decision to prosecute the people yet."
A police spokesman refused to confirm what charges had been brought against the two suspects.