Wounded soldier centre in Edinburgh awarded £5m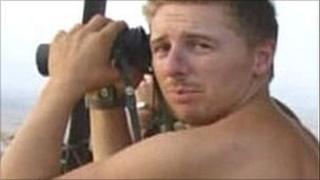 An Edinburgh centre which cares for wounded members of the Armed Forces has been given a £5m grant by the Royal British Legion.
It will cover the running costs of the personnel recovery centre, based in the Erskine Centre in Edinburgh until 2020.
The grant is part of £50m for the care of wounded, injured and long-term sick Armed Forces personnel in the UK.
Based at Mark Wright House, the centre was named in honour of Cpl Mark Wright who died in Afghanistan in 2006.
It can house 12 people as they "overcome the visible and invisible wounds of war and conflict".
Originally established by the Army in partnership with the Scottish government and veteran's charity Erskine, the Royal British Legion took over responsibility for the centre's running costs on 1 January 2011.
'Significant demand'
Since opening in 2009, it has treated 57 soldiers.
Chris Simpkins, Royal British Legion director general, said: "The personnel recovery centre and the battle back centre are central to The Royal British Legion's support for injured servicemen and women, and to our welfare strategy overall.
"We have more than doubled our original grant to the programme in recognition of the significant demand there will sadly be for this kind of care for many years to come.
"The legion supports serving and ex-servicemen and women and their families for the rest of their lives.
"We are delighted to be providing this long-term support for the wonderful work that is being done at PRC Edinburgh to help wounded, injured and sick service personnel recover, work that is paving the way for the other PRCs to come."