Great Winter Run takes place despite snow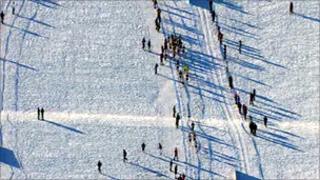 More than 1,300 people have taken part in Edinburgh's Bupa Great Winter Run despite snowy conditions across the city.
Organisers used the contingency course to avoid higher ground around the city's Arthur's Seat.
The Holyrood Park event was run on snowy tarmac after Edinburgh was hit by fresh snow overnight.
The race was followed by the Bupa Great Edinburgh Cross Country, which also featured an international field.
Kenyan Eliud Kipchoge won the men's 4km race, while Linet Masai won the women's 6km race.
Mo Farah captained Great Britain to victory in the Cross Country team race.