Hungry seahorses given floating table to aid dining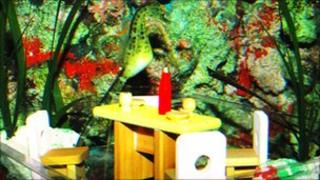 A group of hungry seahorses have been given their own floating dining table in an effort to encourage them to eat more.
The feeding platform has been introduced into the seahorse tank at Deep Sea World in North Queensferry.
The Australian pot-belly seahorses lost weight after their food became lodged in rocks at the bottom of their tank because of a design fault.
The seahorses normally eat between 20 to 30 miniature shrimp a day.
'Bit thin'
The species is one of the world's largest, growing to more than 30cms in length.
Tina Aydon, of Deep Sea World, said: "Our vet noticed they were a bit thin and hadn't been feeding very well.
"The minute shrimp that we were adding to the tank were just becoming lodged at the bottom in all the rocks due to a design fault in their new tank so we have set up this feeding station."
The seahorse is unique in the animal kingdom in that it is the male which carry offspring, giving birth via a special brood pouch on their stomach.
The female seahorse lays her eggs in the male's pouch. He then fertilises them and incubates them until they are born.