Satellite device guides pupils to Edinburgh schools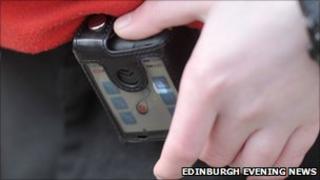 A 16-year-old Edinburgh special needs pupil has become the first in Scotland to learn to travel to school on his own using satellite technology.
Craig Nibloe, from Pilrig Park School, spent five weeks using the GPS device as he got the bus from his home to school and college.
He can now travel independently without the need for school transport.
Edinburgh City Council hopes to roll the device out across other special needs schools in the capital.
Officials said the technology, which has been used to help vulnerable and older people in the capital since 2006, would free up time for teachers by eliminating the need for staff to accompany pupils from homes to school.
The hand-held SkyGuard GPS device alerts a teacher to the exact location of a pupil, and allows two-way communication. It also has an SOS facility.
'Time-consuming'
Craig said: "I always wanted to get the bus to school by myself but wasn't able to. I'm really pleased I can now do that on my own and go to college."
Pilrig Park School head teacher Ellen Muir praised the system.
She said: "Self-travel training is always time-consuming for our staff but this technology means we can concentrate on those pupils who need a higher level of support and train more children to gain more confidence and become independent."
Cllr Paul Edie, Edinburgh council's health and social care leader, said the technology was transforming people's lives.
He added: "Using this technology to help pupils make their own way to and from school is a natural progression and the amazing progress Craig has made shows how beneficial the system is."