RAF Leuchars closure 'would devastate' North Fife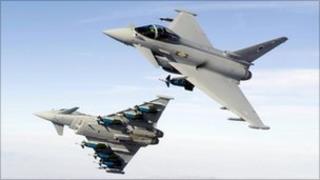 The closure of the RAF base in Fife would have a "devastating impact" on jobs, businesses and even the local primary school, according to a study commissioned by the council.
The fate of RAF Leuchars, one of three Scottish bases under threat due to defence cuts, is to be announced after the Scottish elections on 5 May.
Fife Council said its report presented a "compelling case" for retention.
It said any decision should be based on defence rather than financial criteria.
Much of the council's report focuses on the strategic benefits of keeping a base in Fife.
It said its geographical location meant its fighter jets could rapidly respond to Tier 1 targets such as power stations and major cities in Scotland and the north of England, which could all be reached within minutes.
It quotes a point made during a Scottish Parliament debate on RAF Leuchars' future by local MSP Iain Smith.
He said that since 2005 the base had engaged some 50 times with foreign aircraft attempting to enter the UK's airspace.
The report also highlighted the significant investment made in the base ahead of the introduction of new Typhoon squadrons, including £20m spent on upgrading the runway.
House prices
Aside from defence benefits, the economic consequences of the base's closure were laid out.
Some 1,260 people were currently employed there, it said, and another 640 jobs were supported indirectly by the base, which has been operational for more than 70 years.
The report said the base contributed about £60m to the economy in Fife, where unemployment rates were worse than the average for the rest of Scotland.
There was a 25% drop in jobs in Leuchars between 2001-08.
Public sector jobs made up two-thirds of these losses, and the sector still accounts for more than 40% of jobs in Leuchars, not including defence.
Therefore, the report pointed out the Tory-Lib Dem coalition UK government's forthcoming public sector cuts would badly hit the town, which only has a population of 3,730.
Since 2008 another 600 jobs have been lost from the area, with the loss of two major private sector employers, Curtis Fine Papers and building firm Torith.
The report said the inevitable public sector job losses would be compounded by the small businesses which would face closure if the base was axed.
The future of the local primary school would also be thrown into doubt by any closure, according to the report.
It said 65% of Leuchars Primary pupils had parents in the RAF and the impact of the loss in population would throw the viability of the school into question, even in the short-term.
The knock-on effect on house prices would be "highly negative", says the council, at a time when prices were already lower than the Scottish average.
The report has been sent to the Defence Secretary Dr Liam Fox.