Fife artist Jack Vettriano in national gallery first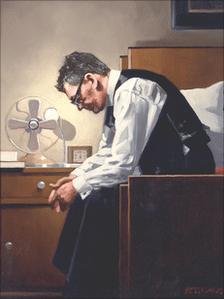 A painting by Jack Vettriano is to go on display for the first time in a national gallery in Scotland.
The Fife artist's self-portrait, The Weight, is to be displayed in the new Scottish National Portrait Gallery when it reopens in the autumn of 2011.
He said: "This is a great honour and another benchmark in my career, and for it to happen in my father's lifetime, makes it all the more special."
The gallery is to reopen in November following its £17.6m renovation.
The painting has been offered on a three-year loan to the national collection from a UK private collector.
James Holloway, the gallery's director, said: "Jack Vettriano is one of the world's best known Scottish artists.
"I am delighted that his self-portrait will hang in the new portrait gallery alongside the faces of the many other famous Scots in our collection."
A National Galleries of Scotland spokeswoman added: "This will be the first Vettriano painting to go on show at the Scottish National Portrait Gallery which reopens towards the end of this year."
Born in Fife in 1951, Jack Vettriano OBE, left school at 16 years old to become a mining engineer.
For his 21st birthday, he was given a set of watercolour paints and, from then on, he spent much of his spare time teaching himself to paint.
Related Internet Links
The BBC is not responsible for the content of external sites.