Odeon cinema owner to resubmit hotel plan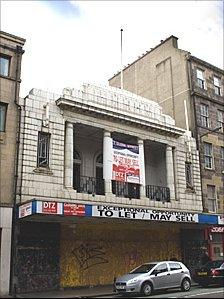 The owner of an empty art deco Edinburgh cinema is to resubmit plans to turn the building into a hotel after failing to sell it.
Duddingston House Properties said it had been unable to find a buyer for the former Odeon cinema in Clerk Street.
Its previous hotel plans showed part of the building would be demolished.
A Scottish government reporter then recommended the cinema be put up for sale again in the hope of finding a use for the site that avoided demolition.
However, the owner has now said despite an "exhaustive four-month marketing campaign" there were no offers reaching the Category B-listed building's £2.5m asking price.
It means the company can reapply for planning consent because it has demonstrated it has complied with the reporter's recommendations.
Plans will now be resubmitted to Edinburgh City Council for approval.
In 2008 Edinburgh City Council received Duddingston House Properties' initial planning application to demolish the auditorium to make way for a new art hotel.
The application was granted consent by Edinburgh City Council's development management sub-committee on 29 October 2008, subject to a number of conditions including the decision being referred to Historic Scotland.
Historic Scotland called in the application for a decision by Scottish ministers, who later upheld a Scottish government reporter's recommendations to try to sell the former cinema.
Bruce Hare, Duddingston House Properties director, said: "We are grateful for the limited interest shown in the building but unfortunately it fell well short of the requirements set by the reporter at the end of the inquiry in October 2009.
"His final comment was that it remained possible that our proposal for an arts hotel could represent the best opportunity for the former Odeon cinema to be brought back into use.
"That now looks likely to be the case.
"Fifteen months on every avenue has been explored so we have now applied for the final consent necessary for our scheme."
A spokeswoman for Historic Scotland said: "We will continue to advise the local authority on any application that it receives for the Odeon on Clerk Street."
The building is a purpose-built cinema, which opened in 1930 and continued to show films until its closure in 2003.
It has remained vacant since.
Related Internet Links
The BBC is not responsible for the content of external sites.