Writer calls for Battle of Prestonpans visitor hub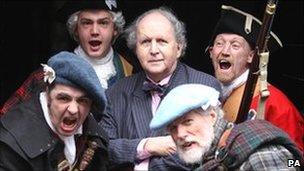 Author Alexander McCall Smith has thrown his weight behind a fundraising campaign to build a new visitor centre dedicated to the Battle of Prestonpans.
Campaigners are hoping to raise £5m to build the visitor attraction in East Lothian.
It would also become a permanent home for the Battle of Prestonpans Tapestry.
The No 1 Ladies' Detective Agency writer helped launch the drive at the Scottish Storytelling Centre in Edinburgh.
The 104-metre tapestry, which tells the story of the 1745 Jacobite rising and was completed last year, is now thought to be the longest in the world.
Mr McCall Smith said he hoped the public would get behind the bid to create a permanent home for the work.
He said: "When I first saw this wonderful tapestry I was completely bowled over.
"It is a remarkable achievement, a monumental and beautiful work.
"I am filled with admiration for the artist and the people all over Scotland who engaged in this tremendous artistic project.
"I think it's very important that this should be given a good home, where it can be appreciated by local people and visitors to Scotland."
The battle was fought on 21 September 1745 and saw Bonnie Prince Charlie and his Jacobite army win a resounding victory over the Hanoverian forces of King George II.
Gareth Jones, the Battle of Prestonpans Heritage Trust chairman, said: "It's part of the story that is often overshadowed by the tragedy of Culloden and its aftermath."
Related Internet Links
The BBC is not responsible for the content of external sites.