Edinburgh counterfeiter jailed over fake CDs and DVDs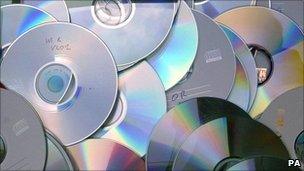 An Edinburgh man who was caught at his home with 4,000 fake CDs and DVDs has been jailed for 16 months.
Paul McPhillips, 41, admitted making, offering, and supplying counterfeit and unauthorised goods under the Copyright, Designs and Patents Act 1988.
He also admitted possessing equipment for making the copies for sale between 1 June 2007, and 1 July 2009.
At Edinburgh Sheriff Court, Sheriff Frank Crowe said community service would send out the wrong message.
McPhillips was selling the counterfeit CDs and DVDs online.
Fiscal depute Isabel Clark said: "Following on from the information the agency carried out a test purchase whereby they had an officer who went on to this website and after several e-mails a purchase was made.
"Upon receipt of this the music was examined by the agency and it was confirmed they were copies because they were recorded on to recordable CDs and not the original."
Mrs Clark said a search of McPhillips' home was carried out and the fake goods were found. She added that the seized items, which he had been selling over the internet, were to be destroyed.
Defence agent Jennifer Cameron said: "He separated from his partner of seven years and he has seven children in total from previous relationships.
"He lost a full-time job and was placed in a part-time position and was struggling financially to support himself and provide for his children."
Ms Cameron added that the gain McPhillips made was minimal. She appealed to the sheriff for a non-custodial sentence.
Sheriff Crowe said: "I realise you had an expensive hobby, but you went far beyond the realm of private study and sharing with friends. Prison is the only option."