Flats evacuated after two blazes in Edinburgh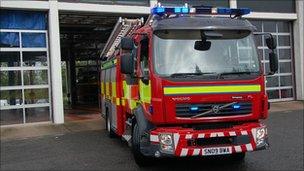 Two people have been taken to hospital and another 15 escaped injury after two separate fires in Edinburgh.
The first blaze broke out in the basement of a five-storey tenement in Clerk Street in the Newington area at 1950 GMT on Tuesday.
Emergency services evacuated 12 people from the flats.
At 2320 GMT a man and woman were taken to hospital after a fire in the bedroom of their Grierson Crescent flat. Three people were also led to safety.
The couple, a 69-year-old woman and a 57-year-old man, were given oxygen by firefighters at the scene before being taken by ambulance to Edinburgh Royal Infirmary suffering from smoke inhalation.
Firefighters also rescued a labrador/collie cross. The dog had been overcome by smoke and was given oxygen at the scene.
The fire, on the third floor of the Granton property, is thought to have been caused by electrics. The fire was extinguished by 0045 GMT.
Firefighters said the house owners were alerted by their smoke alarm.
Meanwhile, Lothian and Borders Fire and Rescue Service said rubbish in the basement area had led to the blaze in Clerk Street.
Firefighters said there was "severe damage" to the basement and "substantial" smoke damage to the rest of the stair.
One flat was smoke damaged, as were two shops beside the stairway.
Six firefighters wearing breathing apparatus extinguished the fire. Four fire appliances and five special appliances were used at the scene.
A Lothian and Borders Fire and Rescue Service spokeswoman said: "Fortunately the rapid response from firefighters meant that they were able to lead those at risk from the fire to safety.
"This was a serious fire which required a number of resources to put out the blaze, prevent further spread to nearby properties and ensure that all the occupants of the building were safe."
More than 30 firefighters were on the scene at each blaze.
Related Internet Links
The BBC is not responsible for the content of external sites.