Mother wins school battle for autistic son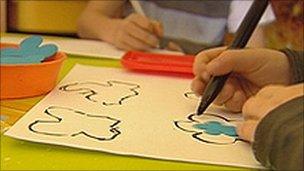 The parents of a child with autism have won the right to send him to the school of their choice, at an extra cost to the local authority of £130,000 a year.
Edinburgh City Council wanted the 10-year-old boy, who cannot be named, to stay at a school in the capital.
But his mother has won a 15-month battle to send him to Rudolph Steiner's Camphill school in Aberdeen.
The Court of Session backed a previous finding that the extra costs were not unreasonable because of his needs.
Camphill charges up to £156,360 a year, compared with an estimated £19,759 a year for Redhall School in Edinburgh.
However, his mother insisted that Camphill would give her son a better chance in life.
She went to the Additional Support Needs Tribunal for Scotland when Edinburgh Council turned down her request to let her son go to the Aberdeen school.
The tribunal found in her favour but the local authority took the case to the Court of Session in Edinburgh, asking appeal judges to overturn the tribunal's decision.
Lord Hamilton, sitting with Lady Paton and Lady Cosgrove, backed the mother.
Edinburgh Council had asked the judges to consider their responsibility towards other children in the same position.
But in the written ruling, Lord Hamilton said the tribunal's decisions could only deal with one child at a time.
The court heard that the child in this case had learning problems and his behaviour had become more difficult to deal with as he had grown older.
The judges heard that Camphill school had a good track record for dealing with such children and there was "an appreciably better prospect" of his needs being met there.
Related Internet Links
The BBC is not responsible for the content of external sites.