Photographs to give rare insight into Royal children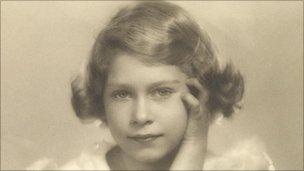 A collection of Royal photographs giving a rare insight into two generations of Windsor children is to open in Edinburgh.
Widely acclaimed for his photographic portraits of children, Marcus Adams created a record of two generations of royal children between 1926 and 1956.
The Queen's Gallery exhibition at the Palace of Holyroodhouse has vintage prints from almost all royal sittings.
Many are from the personal collection of Queen Elizabeth The Queen Mother.
Mr Adams, who died in 1959, opened his Children's Studio in London in 1920 and quickly established a reputation for capturing the personality of his young sitters in his photographs.
He filled his studio with gadgets and toys, rather than visible equipment and dazzling lights. Even his camera was disguised as a toy cabinet.
Adams wanted his subjects to feel completely at ease, believing that photography was "95% psychology and only 5% mechanical".
Experts say he overturned the long tradition of formal portraiture and presented a fresh, natural and vibrant view of royalty.
Among the exhibition highlights is a series of photographs of the Queen when she was just seven months old.
They were taken from Princess Elizabeth's first-ever sitting with Marcus Adams on 2 December 1926.
The exhibition also includes a portrait of the Royal Family taken just four days after the Duke of York ascended to the throne on 11 December 1936, and head-and-shoulders portrait of Princess Elizabeth, by then heir presumptive to the throne.
Mr Adams' association with the Royal Family continued after the marriage of Princess Elizabeth to Lieutenant Philip Mountbatten in 1947 and the births of Prince Charles in November 1948 and Princess Anne in August 1950.
Of his long relationship with the Royal Family, Mr Adams said: "I have had more joy from that family than from any. They are full of fun."
The exhibition opens on Friday and continues until 5 June.
Related Internet Links
The BBC is not responsible for the content of external sites.