Edinburgh tram cash plea not ruled out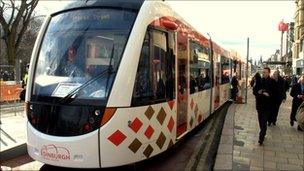 Edinburgh Council has not ruled out asking ministers for more taxpayers' cash to finish the city's troubled tram system.
The £545m project has been subject to delays following a dispute between German contractors Bilfinger Berger and city council-owned developer Tie.
The local authority said it may explore "any avenue" if extra cash was needed.
Finance Secretary John Swinney has already vowed that the project will get "not a penny more" of government cash.
The Scottish government has capped its investment in the Edinburgh trams at £500m, with Edinburgh City Council paying the rest.
The local authority has been taking steps to increase its contribution up to £100m to cover additional costs, but council chiefs have now said they do not know how far a £600m budget will go.
Under questioning by Holyrood's audit committee, council finance director Donald McGougan said that while government money "was not part of the contingency plan at the moment", they would "explore any avenue" if more cash was required.
Mr McGougan stressed the full extent of the costs would not be known until at least the end of mediation talks about to get underway with the tram contractor.
He added: "We are prepared to speak to the Scottish Futures Trust and Transport Scotland about the funding issues after we come out of mediation to see where we are in relation to timescales and costs."
The futures trust was set up by the SNP to help fund infrastructure projects without the need for PPP/PFI tie-ups with the private sector.
It is still hoped the new tram route will be finished by the end of 2013.
Related Internet Links
The BBC is not responsible for the content of external sites.