Clinton sends St Andrews University birthday wishes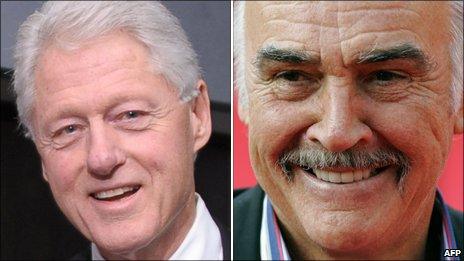 Ex-US president Bill Clinton and Sir Sean Connery have sent birthday wishes to St Andrews University as Prince William and Kate Middleton launched its 600th anniversary celebrations.
First Minister Alex Salmond has also sent a message of support.
Founded in the 15th century, St Andrews is the third oldest university in the English-speaking world.
Leading figures from around the world praised what it had achieved over the centuries.
President Clinton said: "In its six-century history, the University of St Andrews has remained dedicated to creating an academic home for people of all ethnic, religious, socio-economic and national backgrounds.
"St Andrews has helped guide and inspire America's past and future leaders throughout our history - three signatories of our Declaration of Independence held a connection to the university, and thousands of American students are welcomed here each year for study abroad."
He added: "I am confident that the university will continue to build on its impressive legacy, endowing future generations with the honour of a St Andrews education."
James Bond star and St Andrews honorary graduate Sir Sean Connery offered his congratulations to a university "dear to his heart".
He said: "There is nothing like a challenge to bring out the best in man, and for six centuries St Andrews has been challenging established wisdom and challenging its students and teachers to push the boundaries of knowledge.
"Scotland has a few precious claims to be world-class - her first university is one of them."
He added: "Happy Birthday St Andrews - lang may your lum reek."
The royal visit to St Andrews is a trip down memory lane for Prince William and Miss Middleton, who met and studied at the university.
The prince is patron of the university's 600th anniversary campaign, which will include three years of celebrations and a £100m fundraising drive.
The university has created a scholarship in their honour as a wedding gift.
Mr Salmond, a St Andrews graduate, praised the university as "an institution of academic excellence" and said he was delighted to support the celebrations and fundraising appeal.
Former presiding officer of the Scottish Parliament, Lord David Steel, sent his "heartiest congratulations", while honorary graduate Sir Tom Farmer and poet and novelist Jackie Kay also sent their best wishes.
Related Internet Links
The BBC is not responsible for the content of external sites.