Note reveals story behind King's Speech film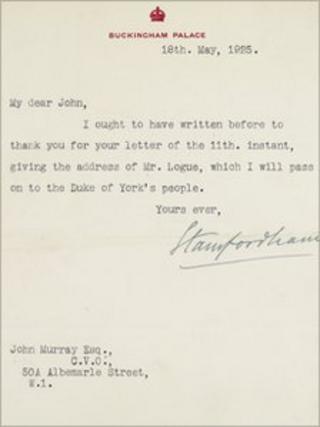 A letter revealing the story behind who put the Royal Palace in touch with speech therapist, Lionel Logue, has been uncovered in Edinburgh.
Mr Logue treated the stammer of the Duke of York, who went on to become King George VI.
The story inspired the Oscar-winning film, The King's Speech.
The letter, dated 18 May 1925, is from Baron Stamfordham, King George VI's father's private secretary, to John Murray V, who recommended Mr Logue.
The letter thanks Mr Murray for passing on the speech therapist's details and states that he would send them on to the "Duke of York's people".
The letter was addressed to John Murray V, a member of the John Murray publishing dynasty whose archives are housed at the National Library of Scotland.
Mr Murray's nephew, John 'Jock' Murray VI, was successfully treated for a stammer by Mr Logue and it was through Mr Murray's recommendation to his friend, Lord Stamfordham, that Logue was introduced to the Palace.
'Verifies claim'
David McClay, senior curator at the National Library of Scotland, said: "There has always been a lot of speculation about how the introduction between King George VI and Lionel Logue came about, even more so following the success of the film The King's Speech.
"John 'Jock' Murray VI's wife, Diana, recalled in an interview recently that Logue had actually been introduced to the Palace by her husband's uncle and this wonderful item from our collection verifies that claim."
The John Murray Archive covers 250 years, mapping seven generations of the Murray publishing house.
It is home to more than 150,000 papers, manuscripts, letters and other documents representing the world's most celebrated writers, thinkers, politicians, explorers, economists and scientists and their relationship with the Murrays.