Ex-marine jailed over fatal punch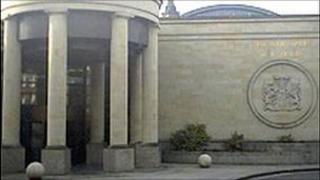 A former Royal Marine who killed a man with one punch to the head has been jailed for three years and nine months.
David Malcolm, from Midlothian, said he hit Brian Lawrie, 22, from Musselburgh, because he was giving him "cheek".
Mr Lawrie suffered a fractured skull in the attack at the Wiremill Social Club, Musselburgh, on 21 February 2010. He died in hospital on 9 March.
Malcolm, who was sentenced at the High Court in Glasgow, admitted a charge of culpable homicide in January.
The court was told earlier how the pair had had a number of run-ins over £40 which Malcolm owed to Mr Lawrie.
On the night of the incident, Mr Lawrie had demanded payment and Malcolm had hit him, defence solicitor advocate Richard Goddard told the court.
He said the 29-year-old had not realised he had seriously injured Mr Lawrie outside the Wiremill social club and went back inside.
Later, he was told he was hurt and went to try and help him, and only left when he was asked to go.
'Excellent record'
He also handed himself in to the police, and sat with his head in his hands during questioning, the solicitor said.
Mr Goddard told the judge: "He never wanted any of this to happen. He never wanted to hurt Brian Lawrie."
Malcolm, who has a four-year-old son, served with the Royal Marines for four years and had an "excellent record of service", his lawyer said.
Sentencing him, Judge Lord Kinclaven said although he accepted that Malcolm had "no intention to cause significant harm to the deceased", there was "no alternative" to a prison sentence.
He told Malcolm he had taken into account "your obviously genuine remorse and your sympathy with the deceased and his family".
But, he added: "You have accepted responsibility for a very serious offence."