Police appeal over woman's remains found in woods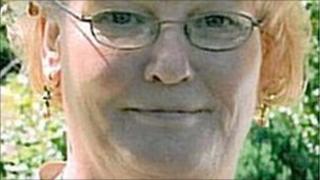 Detectives investigating the discovery of an Edinburgh woman's remains in a wood in Cumbria have launched a major appeal for information.
Elizabeth Brown, 56, from Gorgie, was last seen getting off a number three Lothian Bus in Edinburgh's Nicolson Street on 28 May 2010.
Her skeletal remains were found almost 100 miles away in the Longtown area of Cumbria on 18 January.
Police said Mrs Brown was known to have family in the nearby Gretna area.
They have revealed that cash was withdrawn from Mrs Brown's bank account from a Royal Bank of Scotland cash machine on Nicolson Street shortly before midday on the day she disappeared.
Detectives believe the money was withdrawn by Mrs Brown. The force also said it was possible that she had caught a number 95 bus from Edinburgh to Longtown to visit her family.
'Poor woman'
Det Ch Insp Jeff Ashton of Cumbria Constabulary, who is leading the inquiry, said: "Betty was seen with two large, black Aldi bags in Edinburgh on 28th May.
"We recovered those bags in the vicinity of where her body was found.
"In addition, she appeared to have the same clothing on, which leads us to believe that she was in the Longtown area on or very near to the 28th May last year."
Officers from Cumbria and Lothian and Borders Police are due to travel on all number 95 buses between Edinburgh and Carlisle on Friday, showing passengers pictures of Mrs Brown and the Aldi bags she was carrying.
They will also put up posters and issue leaflets in the Longtown area in an effort to find witnesses that may have seen her before she ended up in the woods.
Mr Ashton added: "We know that Betty has family in the Gretna area and that when she used to visit them she would get the number 95 bus to Longtown from Edinburgh, getting off at the Graham's Arms from where she would be picked up.
"It is entirely possible that she did get the number 95 bus on or around the 28th May last year and for some reason never got to her intended destination in Gretna.
"We need people to come forward with any possible sightings of Betty or anything else that might help us in our investigation into this poor woman's death. Not only do we want the answers but her family deserve to know what happened to her."