Fresh start for historic Calton Hill building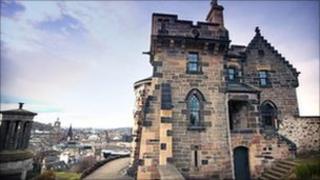 An historic building which used to be a place for stargazers to meet up has been renovated into a holiday home.
Old Observatory House on Calton Hill had been lying dilapidated before Edinburgh City Council restored it with listed building specialist Vivat Trust.
The building was designed by James Craig, the famous architect of the New Town in the 18th century.
In 2002 the building was placed on Historic Scotland's Buildings at Risk Register. Restoration began in 2007.
Deidre Brock, Edinburgh City Council culture and leisure convener, said: "I'm so pleased to see this important historic building brought back into use after such a long time.
"This exciting new chapter for Old Observatory House marks an important milestone in the regeneration of Calton Hill, following on from the very successful restoration of the Nelson, Burns and National Monuments."