Funeral held for girl killed by her own horse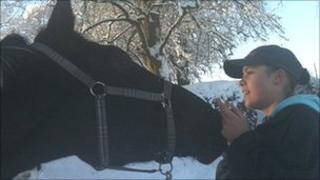 Friends of a West Lothian teenager who died after apparently being kicked in the head by her horse have attended her funeral in full riding gear.
Lauren Bryant, 16, was found with serious head injuries at Duddingston Farm stables in Newton, South Queensferry, on Sunday afternoon.
It is understood her injuries show she was kicked in the head by the horse.
Mourners paid tribute to the popular teenager at St Michaels Parish Church in Linlithgow.
A large floral tribute reading, niece, said: "May you ride through the gates of heaven with your head held high. You have certainly earned your place there."
Lauren's aunt Louise Tait, 29, who runs the stables, also wore full riding gear as a mark of respect.
Grieving parents Stewart, 41, and Andrea, 39, entered the church with Lauren's younger brother Lee, 13.
Minister Dr Stewart Gillen and Rev John Paton led the ceremony singing Morning has Broken and Make Me a Channel of Your Peace.
Rev Paton said: "The truth is she was a lovely young girl, a credit to herself and her family.
"Just last Sunday Lauren was out with Solo, a horse that she loved and who doted on her.
"Some freak accident occurred and this lovely relationship between a young girl and her horse ended in tragedy."
The horse was a present from her family for her 16th birthday last May.