Football fan begins 7,000-mile charity bid for son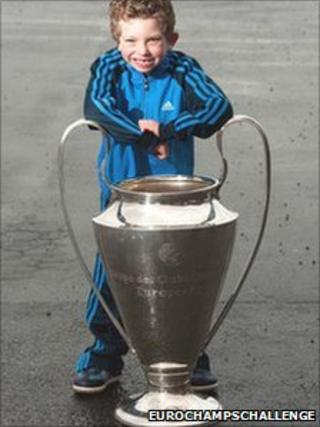 A football fan whose son was born with a rare congenital disorder has launched a 7,000-mile charity bid.
Robin Blacklock, from Edinburgh, intends to visit 21 European Cup winning clubs in 16 cities across Europe in just 14 days.
During the trip, he and his seven-year-old son Angus will meet players from each club who played key parts in their team's winning games.
Angus was born with microtia, a condition affecting ear development.
He only has one ear and has had to endure numerous operations in his short life.
His father aims to raise £100,000 for charity's Changing Faces and the Royal Hospital for Sick Kids in Edinburgh.
Among those lined up to meet the father and son are German player Gerd Müller, from Bayern Munich, and former AC Milan defender Franco Baresi.
The campaign will begin at Celtic Park on 15 May before coming to an end at this year's European Cup final venue, Wembley Stadium, on 28 May.