RAF Leuchars campaigners step up pressure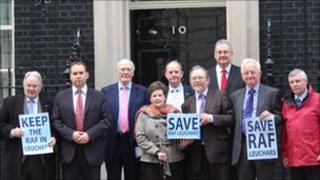 Campaigners have handed a petition opposing any threat to the future of RAF Leuchars in Fife to Downing Street.
Representatives of Save RAF Leuchars delivered the 7,000-signature petition to Number 10 earlier.
The group is trying to step up pressure over the future of one of Scotland's closure-threatened RAF bases.
The involvement of UK military aircraft in action against the Libyan regime has led to calls for a rethink of the coalition government's defence cuts.
Tornado and Typhoon aircraft based in Scotland are on the frontline in Libya.
The Leuchars campaign, organised by Residents Action Force Leuchars, also has support from more than 23,000 people on a Facebook page.
North East Fife MP Sir Menzies Campbell, Dunfermline and West Fife MP Thomas Docherty, and MSP Iain Smith were amongst those who took the petition from Fife to London.
'Strategic' case
They were accompanied by Carroll Finne, chairman of Leuchars Community Council and vice-chair of the Residents Action Force Leuchars, Allan Russell, chief executive of the Fife Chamber of Commerce, and local councillors Tim Brett, Ron Caird and David McDairmid.
Sir Campbell said: "Ministers continue to assure us that no decision has been taken and there will be no announcement until after the Scottish Parliament election.
"We shall take every opportunity to press the case for Leuchars both strategically and economically."
The future of RAF Leuchars, along with RAF Lossiemouth, is uncertain after the Westminster government's strategic defence review which ordered cuts in RAF spending.
The closure of RAF Kinloss in Moray has already been confirmed under the review, with the cancellation of the Nimrod contract.
Since Saturday, military aircraft from Scotland have been taking part in the United Nations "no-fly zone" action against the Libyan regime.
Campaigners said this underlined the importance of the UK's fighting power.
Leuchars houses Tornado fighters which are being phased out and the new Typhoons tasked with defending the air space above northern Britain.