Cull of trapped Tayside beavers avoided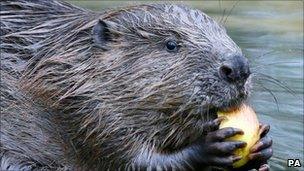 An agreement to avoid trapped beavers being killed was struck after experts estimated there were only about 20 animals running loose in Scotland.
Edinburgh Zoo had suggested it may need to humanely destroy beavers captured by Scottish Natural Heritage at a cost of £100 if new homes could not be found.
The details have been revealed in a letter to Scottish Natural Heritage, after a trapping trial in Tayside.
SNH said at first it was thought there were more than 100 beavers in the wild.
In a letter, the Royal Zoological Society of Scotland, which runs Edinburgh Zoo, said it may have to put down the escaped animals caught on the River Tay.
Zoo officials said in the letter they were prepared to provide temporary accommodation for beavers and would seek new homes for them for three weeks, before culling them if none could be found.
The letter to SNH, dated 25 October 2010, said the zoo would charge "£100 plus VAT for the cost of drugs for the destruction of each animal, and subsequent disposal of the cadaver".
However SNH said it had since told Edinburgh Zoo that it had "hard evidence" there were far fewer beavers in the wild in Scotland than had been speculated and only one had been caught.
An SNH spokesman said: "The suggestion that beavers may have to be put down was made early on, after speculation that there could be more than a 100 beavers to be caught.
"We fully understood and accepted that the zoo had to have a fall-back position if homes could not be found for all the beavers.
"However, the hard evidence of beaver activity suggested there were at most about 20 beavers in the wild, so we were able to agree subsequently that euthanasia would not be necessary. We were confident that new homes could be found."
SNH said that now the trapping trial had ended in Tayside, it was assessing the results to decide what to do in the future.
A Royal Zoological Society of Scotland spokeswoman said: "At the time of writing the letter there was potentially an unknown number of beavers that the RZSS were going to be asked to hold by Scottish Natural Heritage.
"We were willing to accommodate as many as resources would allow, but we would never have been able to accommodate a large number.
"Both the RZSS and SNH jointly wanted to find another solution, therefore verbally days later all involved decided we could offer a home at Edinburgh Zoo.
"The captured Tayside beaver in question was housed at Edinburgh Zoo from early December and provided with the best husbandry and veterinary care."
It comes after one wild beaver, the only one captured by SNH so far, died at Edinburgh Zoo within months of its arrival.
Edinburgh zoo stressed that the beaver was not destroyed and that a post-mortem examination was under way.
SNH believes up to 20 beavers have escaped private collections in Angus and Perthshire.
The beavers are being recaptured because it is illegal to allow their escape or release into the wild and because their welfare may be at risk, SNH said.
Related Internet Links
The BBC is not responsible for the content of external sites.