Google's Eric Schmidt to give MacTaggart lecture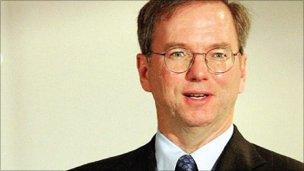 The executive chairman of Google, Eric Schmidt, will give the MacTaggart Lecture at the Edinburgh International Television Festival in August.
Dr Schmidt will discuss the impact of the internet revolution and how the television industry can engage with new technologies.
The lecture often sets the tone for what is the biggest TV industry talking shop in the UK.
BBC director general Mark Thompson delivered last year's lecture.
In 2009 James Murdoch, who was then News Corporation and BSkyB chairman, accused the BBC of launching a land grab at the expense of its commercial rivals, and said the scale of its activities and ambitions was "chilling".
James' father Rupert Murdoch is among a host of influential TV figures who have delivered the lecture since it began in 1976.
Dr Schmidt, who will speak in Edinburgh on 26 August, will be the first leading figure from a technology company to give the address.
He said: "It's a great honour to be invited to give the MacTaggart Lecture - the previous speakers are all incredibly impressive.
"I have always been a profound optimist about the potential for technology to improve people's lives - though I am also a realist and understand it can be immensely disruptive in the process.
"So I look forward to discussing the opportunities and challenges ahead for the TV industry in Edinburgh."
Since joining Google in 2001, Dr Schmidt has helped grow the company from a Silicon Valley start-up to a global leader in technology.
Related Internet Links
The BBC is not responsible for the content of external sites.