Robert Chalmers on trial over Samantha Wright bin death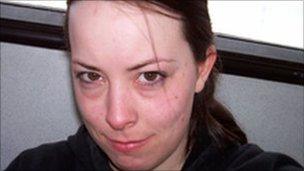 A man has gone on trial at the High Court in Edinburgh accused of murdering a woman whose remains were found in a bin 16 months after her death.
Robert Chalmers, 59, denies murdering Samantha Wright, 24, who lived on Stevenson Drive, Edinburgh, "by means unknown".
He also denies attempting to defeat the ends of justice after the alleged murder in June 2008 in Magdalene Drive.
Mr Chalmers blames another man, Vasile Ungureanu.
The charge claims that as part of a cover-up, between 12 June 2008 and 12 October 2009, Mr Chalmers attempted to dismember Ms Wright's body and repeatedly failed to inform the authorities of her death, preventing them from investigating and finding out how she died.
It is also alleged that at some time during that period, Mr Chalmers removed the body, hidden in a house in Magdalene Drive, took off some of her clothes, dumped her remains in a refuse bin and covered her with foliage.
Mr Chalmers is also alleged to have turned over a mattress stained with Ms Wright's blood, to hide the marks, and to have got rid of blood-stained bedding and her clothes and personal items.
The trial saw footage taken by CCTV cameras in Edinburgh city centre on the evening of 12 June 2008.
Ms Wright's mother, Catherine Gibson, 48, said the film showed her daughter, wearing a striped T-shirt she had bought on her last visit to see her mother, who lives in Stevenage, Hertfordshire.
"I recognised Samantha the moment she came on the screen," she said.
Ms Gibson, who split with her daughter's father when she was about a year old, said her daughter, who had moved from Stevenage to Edinburgh, would usually be in touch at Christmas or on birthdays.
Ms Wright's last visit to Stevenage was in May 2008.
The trial before Lord Malcolm is expected to last about seven weeks.
Related Internet Links
The BBC is not responsible for the content of external sites.