Edinburgh City Council orders independent fraud probe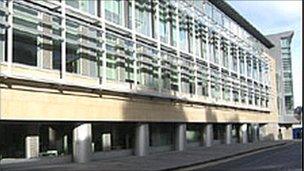 Independent experts have been brought in to investigate an alleged housing repair fraud within Edinburgh City Council.
Deloitte is to look into complaints, "potentially of a very serious nature", that led to six staff members being placed under precautionary suspension.
The employees are from the property conservation team that deals with the issue of statutory repair notices.
The suspensions were not an indication of guilt, a spokesman added.
Five of the staff members were suspended last month while another was suspended from the same department in November over claims he received money from a firm for awarding them contracts without putting the work out to tender.
Sue Bruce, Edinburgh City Council's chief executive, said: "As well as the investigation, I have initiated a full review of this service area.
"We will continue to carry out emergency repairs while this is going on and ensure jobs currently on site are completed.
"I can give an assurance that our action in dealing with this will be determined and focussed.
"There will be a report to councillors on this matter at the council meeting on 28 April."
Edinburgh City Council issues about 3,000 notices a year affecting 37,000 residents of private properties.
One group of residents in the Piershill area received an initial estimate of £130,000 only to find the bill rise to almost £500,000.
In Edinburgh there is currently an estimated £1.4bn worth of outstanding repairs to tenement buildings.
Related Internet Links
The BBC is not responsible for the content of external sites.