Father tells trial of 'bubbly' daughter Samantha Wright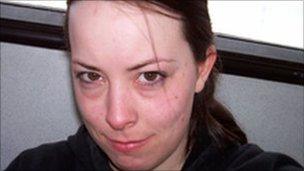 A father has told a court that his murdered daughter "wouldn't see the dark side of anything".
Jeremy Wright, 49, described Samantha Wright as "bubbly and full of fun", during his testimony at the High Court in Edinburgh.
Robert Chalmers, 59, denies murdering the 24-year-old "by means unknown" and hiding her body in a garden bin.
Prosecutors claim he murdered her at a house in Magdalene Drive in Duddingston on 12 or 13 in 2008.
Mr Chalmers blames another man, Vasile Ungureanu, for the death of Miss Wright, who was originally from Stevenage.
The charge claims that as part of a cover-up, Mr Chalmers attempted to dismember Miss Wright's body and repeatedly failed to inform the authorities of her death, preventing them from investigating and finding out how she died.
It is also alleged that at some time during that period, Mr Chalmers removed the body, hidden in a house in Magdalene Drive, took off some of her clothes, dumped her remains in a refuse bin and covered her with foliage.
Mr Chalmers is also alleged to have turned over a mattress stained with Miss Wright's blood, to hide the marks, and to have gotten rid of blood-stained bedding and her clothes and personal items.
Mr Wright, a wood machinist from Stevenage, Hertfordshire, told the court that his daughter, who was living in Edinburgh's Stevenson Drive at the time of her death, was "bubbly, loud sometimes, and full of fun".
He added: "She wouldn't see the dark side of anything.
"She was full of life. She saw good in everyone and in everything.
"No-one would forget her once they met her."
The trial, which started on Tuesday, before judge Lord Malcolm, is expected to last about seven weeks.
Related Internet Links
The BBC is not responsible for the content of external sites.