Taste of Edinburgh food event 'to attract thousands'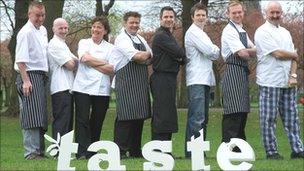 Thousands of foodies are expected to flock to this year's Taste of Edinburgh event in the capital.
More than 25,000 people are to gather at The Meadows between 1 and 3 July to sample food from 100 artisan producers.
Visitors can brush up on their own culinary skills with hands-on classes with Cook School by Martin Wishart and sessions at Waitrose Cookery School.
Restaurants in the line-up include Chex Rouz, Cuccina at Hotel Missoni, First Coast, Hawke and Hunter, and Ondine.
Food from Plumed Horse, Tigerlily, Vincaffe and Wedgwood will also be on offer.
Justin Clarke, Taste Festivals managing director, said: "Taste of Edinburgh is back for the fifth year and with the combination of our original launch venue, the new summer date and some of the finest chefs in the country signed up, this year it really is going to be the most eagerly anticipated festival yet."
Related Internet Links
The BBC is not responsible for the content of external sites.