Funeral for Livingston soldier Alan Cameron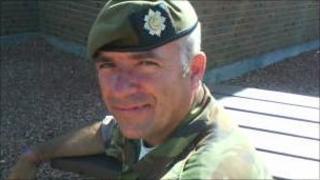 A soldier who died at home in West Lothian almost a year after being seriously injured in Afghanistan has been buried with military honours.
Colour Sergeant Alan Cameron, 42, of 1st Battalion Scots Guards was wounded while on foot patrol in an area north of Lashkar Gah on 13 April 2010.
The father-of-one was recovering after difficult operations but died suddenly at home in Livingston on 31 March.
His funeral took place at St John's Church in Bathgate.
He was then buried with full military honours at the church's cemetery.
A post-mortem examination found that his death was directly linked to his injuries.
Lieutenant Colonel Lincoln Jopp, commanding officer of 1st Battalion Scots Guards, said: "Col Sgt Cameron was a real father figure in the battalion.
"Whether in Canada in charge of his beloved Javelin platoon or in Afghanistan in charge of the Fire Support Group, with his greying hair and knowing smile he was someone everyone looked up to and admired, particularly me.
"He was a gentleman in all the best meanings of that word."
He leaves his son, Dean, and his partner Nicola.