Lost ashes of Alfred Adler return to Vienna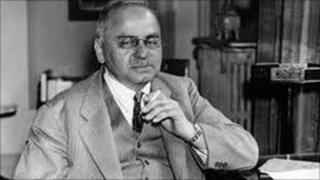 Ashes belonging to one of the founders of psychoanalysis, Alfred Adler, are being returned to Austria after languishing in Edinburgh for 70 years.
The remains were rediscovered in the city's Warriston Crematorium after a search in 2007.
They had been there since Adler's death from a suspected heart attack while on a visit to Aberdeen in 1937.
Adler, a former colleague of Sigmund Freud, is credited with identifying the concept of the inferiority complex.
He rose to prominence as the founder of the school of individual psychology and for his work with Freud in the early 1900s.
Born Vienna on 7 February 1870, Adler died while on a three-week visit to Aberdeen University.
Grave of honour
His funeral was held in the city but his casket sent south for cremation.
It was the honorary Austrian consul to Scotland, John Clifford who retraced the remains after being approached by the institute founded by Adler in his native Vienna.
Mr Clifford said he searched the city's records after discovering that only Glasgow and Edinburgh had cremation facilities at the time of Adler's death.
He said: "Adler's casket was lost track of, only recently to be found again in Edinburgh at the Warriston Crematorium, where, in fact, it had been since 1937."
The ashes are now set to be returned to Austria, where they will be re-interred in a grave of honour at the Central Cemetery of Vienna.
A civic reception, presided over by the Lord Provost of Edinburgh, George Grubb, and Mr Clifford is due to be held later.
Also attending will be representatives of the Austrian Society for Individual Psychology and members from the Scottish Institute of Human Relations and of the British Psychoanalytical Society.