Charles II statue back in Edinburgh's Parliament Square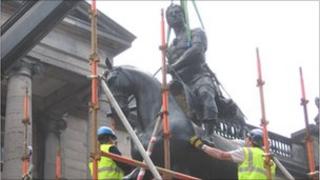 Edinburgh's oldest statue has been returned to the city's Parliament Square following a £60,000 restoration.
The 325-year-old statue of Charles II, thought to be the work of the Dutch sculptor Grinling Gibbons, took six months to be restored.
The statue, which is made of lead, depicts the King of Scotland, England and Ireland as a Roman emperor.
It was dismantled to repair splits and cracks in the lead, and to install a new supporting framework inside.
The lead was cleaned and missing parts such as the sword and scabbard have been replaced, modelled on a similar statue at Windsor Castle.
A layer of wax has also been applied to help protect it against corrosion.
Original condition
It was restored as part of the Twelve Monuments Restoration Project, a joint initiative between Edinburgh City Council and Edinburgh World Heritage.
The statue was restored at a workshop in Hall Conservation in Rochester, Kent.
Deidre Brock, Edinburgh City Council's culture and leisure convener, said: "Parliament Square has not been the same since this magnificent statue was taken away for conservation.
"Charles II is the oldest of Edinburgh's many historic statues and this painstaking restoration means it is now preserved for future generations of residents and visitors to come."
Adam Wilkinson, director of Edinburgh World Heritage, said: "This has been a very worthwhile project and I would like to thank all the donors, whose contributions have been vital to this project.
"The conservators have done a marvellous job, and everyone can now appreciate this sculpture in its original condition.
"This statue has seen many changes in the 300 years that it has been watching over Parliament Square and I am glad that we have been able to ensure its future for many years to come."
Charles II's father King Charles I was executed in London on 30 January 1649, at the climax of the English Civil War.
The Parliament of Scotland proclaimed Charles II king but the English Parliament judged this unlawful.
After the Interregnum, during which Oliver Cromwell took control of England, Scotland and Ireland, Charles II returned to the throne in 1660.
The statue was erected in 1685, the year of the king's death.