Edinburgh race crash driver Philip Truong sentenced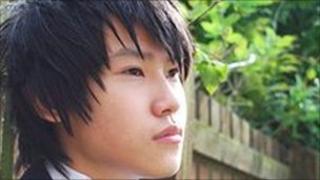 A man accused of racing against a car which crashed in Edinburgh, killing two teenagers, has been sentenced to 240 hours community service.
Philip Truong, 22, from Edinburgh, was driving above the speed limit on Frogston Road West when the fatal crash happened on 21 July 2009.
Zak Chan, 18, and Emily Chan, 18, died after Mr Chan's blue Mazda veered off the road and smashed into a tree.
He was banned from driving for five years at the High Court in Edinburgh.
Truong, a shop manager at William Hill's bookmakers, admitted he had been driving on Comiston Road and Frogston Road West above the 40mph speed limit and thought he was doing between 40mph and 50mph.
The court heard a group, including Truong, Mr Chan and Ms Chan, had been out for a family meal and had left in separate cars to go to Truong's house.
Truong earlier told the court that he first found out about the accident when no-one turned up and he phoned his friend, who said there was a crash, and then drove back to the scene.
'Bad driving'
A jury sitting at the High Court in Edinburgh earlier found Truong guilty of dangerous driving but he was cleared of causing the deaths of the two teenagers.
Judge Lord Bracadale told Truong: "You are not criminally responsible for the tragic, untimely and unnecessary deaths of Zak Chan and Emily Chan.
"That said, the driving was extremely bad. It involved racing and driving at very high speed in a 30mph zone.
"The nature of the offence is such that a custodial sentence must be utmost in my mind.
"You are a young man with a good job and otherwise of good behaviour and you have shown remorse for your conduct that night and there is no question of drink or drugs being involved."
Defence advocate Ronnie Renucci said Truong had expressed responsibility for his driving as well as for the deaths of his friends.
He said: "Although he has been found to not be legally responsible, it does not mean he doesn't feel any moral responsibility. His attitude towards driving shows a clear change.
"This is something he is not likely to put behind him lightly.
"It is something he has to live with for the rest of his life and it is a matter which prays heavily on his mind."