Samantha Wright murder trial shown CCTV footage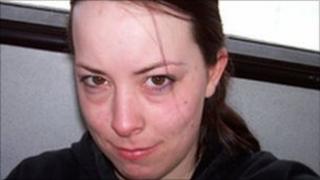 A murder trial jury has watched CCTV pictures of Samantha Wright apparently chatting to a man who resembled her alleged killer.
It shows a scene at Rose Street and Hanover Street on the day prosecutors say Miss Wright went missing.
Robert Chalmers, 59, denies murdering Samantha Wright "by means unknown" and hiding her body in a garden bin.
Prosecutors claim he murdered her at a house in Magdalene Drive in Duddingston on 12 or 13 June 2008.
Mr Chalmers blames another man, Vasile Ungureanu, for the death of Miss Wright, who was originally from Stevenage.
The High Court in Edinburgh heard police searching for the missing 24-year-old only got the footage, taken by a city centre security camera, by chance.
Edinburgh City Council officials in charge of the cameras routinely destroy the film after 30 days.
But the crucial recording had already been seized by police, in connection with another, unconnected, inquiry, the trial heard.
Det Con Roderick Scott, 41, described how he and colleagues on "Operation Automate", the search for Samantha, knew she had used a cash machine in nearby St Andrew Square on 12 June 2008.
A year later they discovered officers conducting the other inquiry had the CCTV footage.
Six police officers spent 13 days trawling though hours of film taken by 19 cameras and came up with 39 possible sightings of Miss Wright.
They narrowed the possible sightings down to a short list of seven and the images were taken down to Stevenage, Hertfordshire, to be shown to Miss Wright's parents.
They both agreed that a woman wearing a hooped tee shirt walking next to a man with a grey beard was their missing daughter.
Questioned by advocate depute John Scullion, prosecuting, Det Con Scott agreed that Miss Wright was walking in the same direction as the man with the grey beard.
"So they both walk in the same direction and it appears they are conversing," said Mr Scullion.
"Yes," said the detective.
The trial heard that a still from the CCTV was made into a poster, later shown to guest house owner Mohammed Yamin, 46, who also worked at the Central Mosque in Edinburgh's Potterow.
He said that Robert Chalmers, sitting in the dock, resembled the man with the grey beard.
At the time Mr Chalmers was working there as a handyman.
Behaviour contrasted
The trial also heard Mr Chalmers appeared "on edge" when visited at the house in Magdalene Drive by property manager James Cherry, 28, and an electrician doing safety checks in February 2009.
Mr Cherry said he noticed curtains were drawn across patio doors at the back of the house, which he thought was strange at that time of day.
He said Mr Chalmers did not seem to want them to look in a cupboard.
Mr Chalmers' behaviour contrasted with an earlier visit when he was more friendly, the court heard.
Solicitor advocate Maurice Smyth, defending, suggested Mr Chalmers had been surprised to find two men in his house. They had let themselves in while he was using the toilet.
The curtains over the south facing patio windows were to stop the sunshine spoiling Mr Chalmers' television viewing, said the lawyer.
About 16 months after she went missing, Miss Wright's remains were discovered, covered with foliage in a bin.
The trial before judge Lord Malcolm continues.