Glazing begins at Edinburgh Waverley Station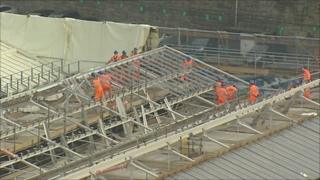 The first of 28,000 panes of glass has been fitted into Edinburgh Waverley Station's new roof.
Part of a £130m project to redevelop the station, the new roof will see steelwork restored and replaced and clear glazing installed.
It should take two years to complete the work on the UK's third largest glazed structure, which covers an area the size of 14 football pitches.
At least 23 million people pass through the station each year.
Previously, project contractors, led by Balfour Beatty, have focussed on creating a platform for the 130-strong workforce to operate from.
Ron McAulay, Network Rail Scotland director, said: "Getting the first pane of glass installed is a real landmark moment for this project.
"Regular users of Waverley will see just how much work has been undertaken already just to enable us to get access to the roof and to create a safe working environment.
"Ultimately, the goal of this project is to create a brighter, better station for passengers.
"The scale of the job only becomes apparent when you are up on the roof, looking at the familiar valleys and peaks stretch a quarter of a mile into the distance."
Other works at Waverley will include new fully-accessible entrances from Market Street and from Princes Street.
The concourse will be resurfaced, furniture will be cleaned or removed and the outside of buildings will get a makeover.
The project to enhance Waverley Steps began in February and will be finished by summer 2012.