Samantha Wright murder trial told of garden ban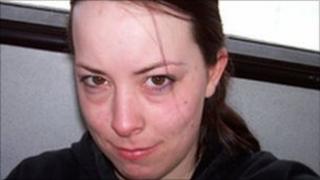 A Big Issue seller has told a murder trial the accused banned him from an Edinburgh garden where Samantha Wright's body was later found.
Vasile Ungureanu lived at murder accused Robert Chalmers' home on two occasions and also made other visits.
Mr Chalmers denies murdering Ms Wright "by means unknown" on 12 or 13 June 2008 and hiding her body in a garden bin in Duddingston.
The 59-year-old blames Mr Ungureanu for Ms Wright's death.
Prosecutors claim Mr Chalmers murdered Ms Wright, who is originally from Stevenage, at a house in Magdalene Drive in Duddingston.
Mr Ungureanu, 30, told the High Court in Edinburgh that during his first stay in the house in Magdalene Drive, Mr Chalmers made no objection when he wanted to go through the patio doors in the living room and into the rear garden.
But when he returned to the house after the break-up of a brief marriage with a mother-of-five from Wester Hailes, Edinburgh, things were different.
Speaking through an interpreter, Mr Ungureanu said: "I asked for permission to go and smoke a cigarette once or twice and he didn't allow me."
Advocate depute John Scullion, prosecuting, asked if he had questioned Mr Chalmers about this. "No I didn't. I never questioned him," he replied.
During his second stay in Mr Chalmers' house the patio doors were never open, according to Mr Ungureanu.
Mr Ungureanu came to Scotland via London and Birmingham about August or September 2007 and sold the Big Issue as well as doing casual labouring jobs.
He first went to stay with Mr Chalmers in September or October 2007. At that time Mr Chalmers was in a relationship with Elizabeth Hunter, the woman Mr Ungureanu married in December of that year, partly because it helped him gain permission to work in the UK.
The trial heard the Romanian moved back into the house in Magdalene Drive in about August or September 2008 after a brief fling with a woman he had known from his days in Birmingham.
Mr Ungureanu said that on another occasion he thought Mr Chalmers had been digging.
He said: "I know I came once to visit him. I phoned him before and when I entered the house he had a spade in his hand, a shovel, and he had dirt on his clothes.
"He told me he was digging a hole in the back because his neighbour had flooded him but I didn't go outside to see or to check."
The trial continues.