Moves to create event inspired by Glasgow Art Fair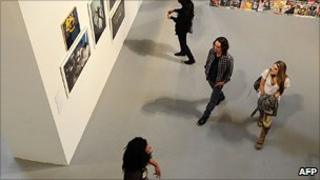 Plans are under way to create an event along the lines of the scrapped Glasgow Art Fair.
The fair had been held in Glasgow city centre for the past 15 years, but organisers said it had become too expensive.
It has been replaced by an event called The Vault, set to take place at The Briggait in Merchant City in July.
But director Andy Naismith said a number of galleries were backing an event inspired by the fair next spring.
Mr Naismith told BBC Scotland: "It's always been a successful event for artists, for galleries and for buyers as well.
"People who come along have long raved about the quality of art that's on show."
The decision to abandon the Glasgow fair, which ran for four days in the city's George Square, has been condemned by artists and dealers.
It had received criticism for being too mainstream.
But artist Frank To said artists, galleries, businesses, and local hotels and restaurants were losing out.
He said: "The Glasgow Art Fair is a major event for the city which generates massive revenue for local businesses.
"Not having Glasgow Art Fair in George Square breaks the cycle of tradition: everybody knew about it and had done so for over a decade.
"It's very sad, though I understand these are difficult times for everyone."