Edinburgh Zoo holds crisis meeting over suspensions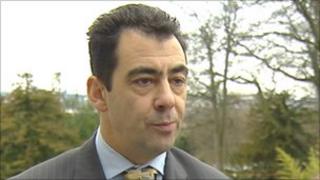 Edinburgh Zoo chiefs are to hold a crisis meeting with members over the suspension of two senior executives.
More than 20 members have demanded an extraordinary general meeting, which will be held on Thursday 12 May at 1930 BST, in the zoo's education centre.
Fears have been mounting that management upheaval will put the lucrative deal to bring two pandas from China to the zoo at risk.
However the zoo has said the £6m deal was not affected.
'Very serious'
It follows last month's suspension of Gary Wilson, who is the zoo's chief operating officer.
Another senior zoo official, Iain Valentine, who was the man behind an agreement to bring pandas to Scotland, was also suspended following allegations which are being taken "very seriously".
It is understood the zoo's director of development, Anthony McReady, has left the organisation.
Mr Valentine and Mr McReady had been helping to run the zoo while a separate inquiry continues into allegations against Mr Wilson.
The zoo's education centre can hold up to 250 people. There are 23,000 members at the zoo.
Donald Emslie, board chairman of the Royal Zoological Society of Scotland, which runs Edinburgh Zoo, will be at the special meeting along with other board members to answer questions.
Letters are to be sent out to members on Wednesday, alerting them to the meeting.
Mr Emslie said: "Members of the society are a key priority for us and we fully understand that they will be concerned by what they have read in the press.
"We are responding to enquiries we have received and will be holding an extraordinary general meeting to answer questions and give what information we can legally provide to those who are able to attend.
"A letter will be going to members shortly advising them of the date.
"An update will be provided in writing to those who were unable to attend."