Troops return to Glencourse Barracks from Afghanistan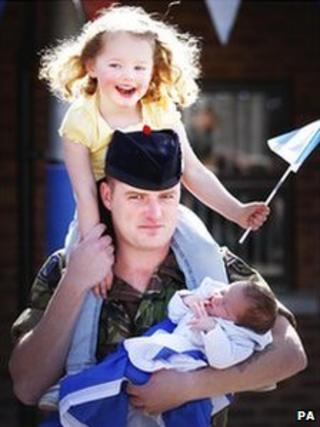 Soldiers from The Royal Highland Fusiliers, 2nd Battalion, The Royal Regiment of Scotland have returned home to Midlothian.
The battalion carried out patrols, operations and fought insurgents in the Lashkar Gah region of Helmand province during a six month tour in Afghanistan.
About 500 members of the battalion also helped security in the area and trained the Afghan National Security Forces.
They returned to their Penicuik-based Glencourse Barracks.
No fusiliers were killed during their six-month tour.
Their positions have been taken over by The Highlanders, 4th Battalion, The Royal Regiment of Scotland.
Lt Col Dougie Graham, commanding officer of the Royal Highland Fusiliers, said the tour was "successful" and praised the hard work of the battalion.
He said: "Before I left, my aim was to try and leave Lashkar Gah and Helmand a little bit better and I think we achieved that. Thanks to their efforts, there are a great many areas where the local people can live freely without fear from the insurgents.
"It's great being home. It's almost seven months since the guys have seen their families for any period of time.
"Being reunited with family and loved ones is something they've been aiming for during those months."